Are you on a vegan diet and wondering if a fast food chain like Five Guys have vegan options? Well, you're in the right place, we will go through the Five Guys vegan options and also some items that you'll need to avoid when you're vegan. Keep reading to learn more!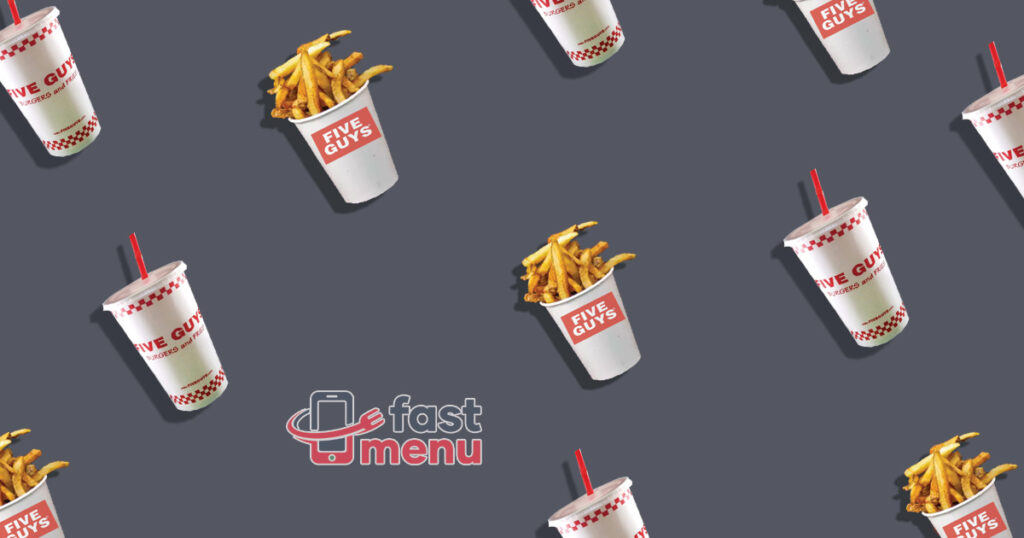 What is a Vegan Diet?
A vegan diet is one that excludes all animal products, including meat, poultry, fish, dairy, eggs, and honey. Vegans also avoid using any animal-derived ingredients in their food, such as gelatin or rennet. This type of diet is often associated with health benefits, as it is typically lower in saturated fat and cholesterol and higher in fiber and antioxidants.
This diet can be tough, especially if you're not used to it. There are a lot of different things to consider, like what you're going to eat and where you're going to get your food. It can be a lot of work, but it's definitely doable. Here are some tips to make it a little easier.
1. Find a good recipe book or website that has vegan recipes. This will give you some ideas of what to make and help you plan your meals.
2. Go grocery shopping with a list of what you need. This will make it easier to find everything you need and avoid impulse buys.
3. Make sure you're getting enough protein. This is important for everyone, but especially for vegans because they don't eat meat. There are plenty of protein sources, such as beans, lentils, tofu, and quinoa. Make sure to include them in your diet.
4. Don't be afraid to experiment. Veganism is all about trying new things, so don't be afraid to experiment with different foods and recipes. You might be surprised at how much you like it!
Vegan Options at Five Guys
Five Guys is one of the most popular burger chains in the United States, and it's no secret why. The Five Guys burger is big, juicy, and delicious. They are also known for serving hot dogs, sandwiches, fries, and milkshakes But what about those who don't eat meat? Is there anything on the Five Guys menu for them?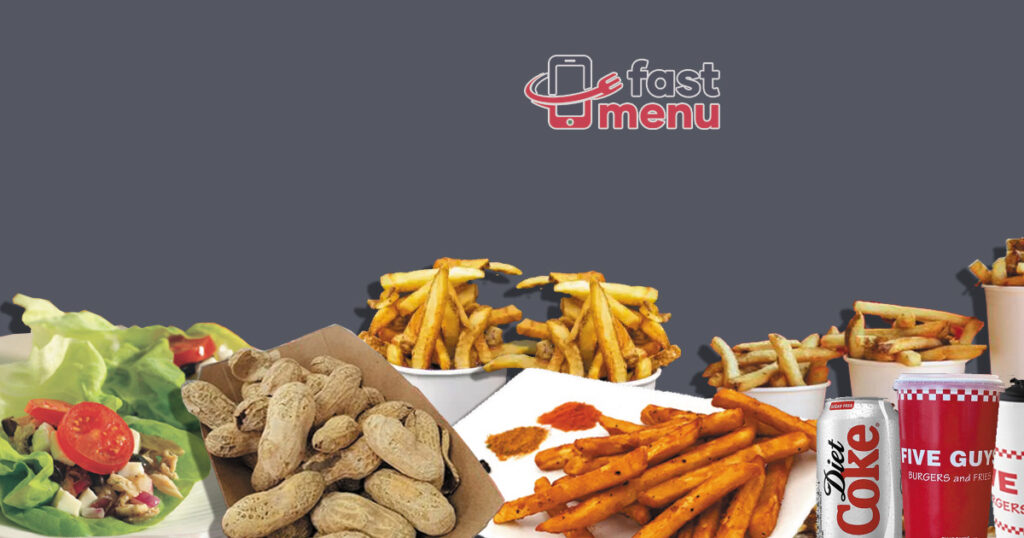 Five Guys may not be the best place for you to eat. Since their options are limited since they are known for serving fried and meaty items. Here are the vegan options at Five Guys:
Cajun Fries
Regular Fries
Peanuts
Veggie Sandwich
Vegan Toppings and Sauces
Fruit Mix-ins
Soda Drinks
Cajun Style Fries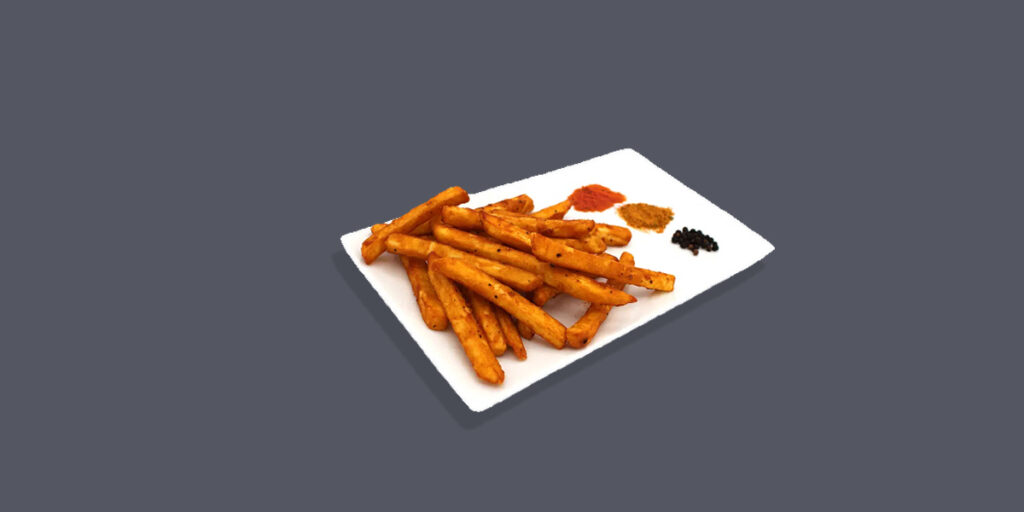 Cajun-style fries are a popular side dish at Five Guys. The fries are just plain potatoes that are peeled and cut into thick wedges. The potato fries are cooked in 100 C peanut oil until they are golden brown and crispy. They are seasoned with a blend of Cajun seasonings, including paprika, garlic powder, and cayenne pepper. These fries are hearty and flavorful, and they pair well with any drinks at Five Guys vegan menu options.
Regular French Fries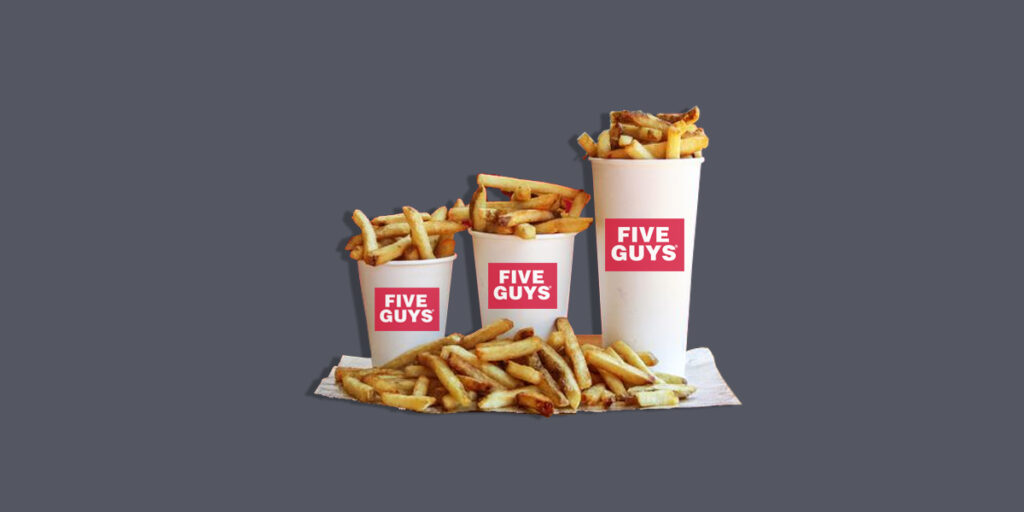 These Five Guys style fries are also made from fresh, hand-cut potatoes. These fries at Five Guys are also cooked in peanut oil and seasoned with a special blend of spices. The result is delicious and crispy which is perfect for dipping in ketchup or your favorite vegan sauce.
Peanuts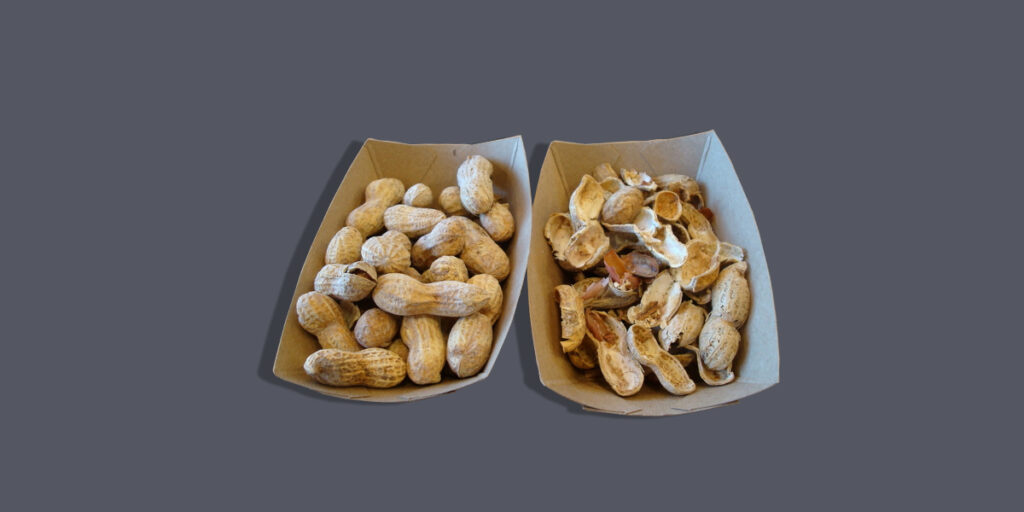 Peanuts are naturally made vegan, they are a type of nut that is typically roasted and then salted. They can be eaten as a snack on their own, or used as an ingredient in various dishes. For those who are sucker for free chips, at Five Guys, peanuts are offered as a free snack for customers to enjoy while they wait for their food.
Veggie Sandwich at Five Guys (No Burger Buns)
The Five Guys veggie sandwich is made with grilled onions, mushrooms, lettuce, green peppers, and tomatoes. The buns used for this sandwich contain milk and eggs. You can replace it with a fresh lettuce in your Five Guys locations.
Since some items like the onions are grilled, you also need to ask if they use the grill as the burgers to prepare your food because there's gonna be a risk of cross-contamination. This
Vegan Dipping Sauces and Toppings
Five Guys also offers vegan dipping sauces and toppings, These vegan items include:
Original Steak Sauce
Green Peppers
BBQ Sauce
Hot Sauce
Grilled Mushrooms
Ketchup (best pair for an order of fries)
Jalapeno Peppers
Malt Vinegar
Lettuce
Onions / Grilled Onions
Mustard
Relish
Pickles
Tomatoes
Sea Salt
Five Guys Vegan Options: Fruit Mix-Ins
The ingredients listed are also vegan friendly and they are mostly used to make milkshakes. (However, they don't currently offer any vegan milkshake options.)
Banana
Chocolate
Cherry
Dark Vanilla Syrup
Coffee
Oreo Creme
Oreo Cookie Pieces
Strawberry
Peanut Butter
Five Guys Vegan Soda Drinks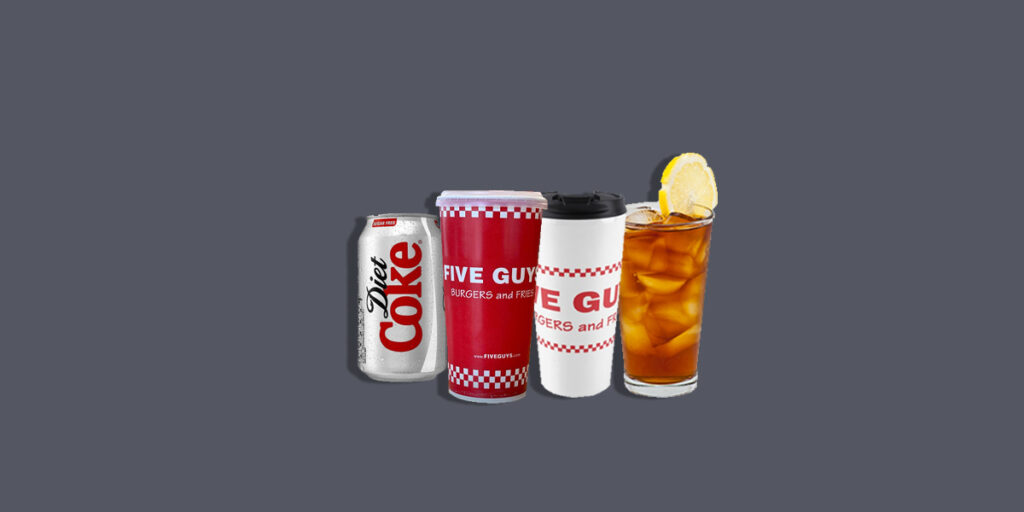 Five Guys offers a variety of the best vegan soda options to choose from:
Coca-Cola
Sprite
Fanta
Dr. Pepper.
So next time you're enjoying crispy, fresh, and tasty fries and peanuts, be sure to wash it down with a refreshing vegan soda!
Is Five Guys Vegetarian-Friendly?
Five Guys is a fast-food chain that specializes in burgers and fries. While they don't have any explicitly vegetarian and vegan items on their menu, they do have a "veggie burger" option that can be customized to be a completely meat-free meal at Five Guys. Additionally, their fries are cooked in vegetable oil, so they can be considered vegetarian-friendly.
Ordering Vegan at Five Guys
If you're vegan, you can still enjoy a delicious meal to eat at Five Guys. Just order your burger with no cheese or mayo, and ask for vegetables instead of bacon. Since the bun is also not vegan, you can ask and verify if they have a lettuce wrap available in your local Five Guy restaurants.
The Five Guys staff is always happy to accommodate vegan diners, so don't hesitate to ask for what you need. You can order all the items mentioned above and you're good to go. You'll leave feeling full and satisfied, knowing that you've enjoyed a delicious meal without compromising your values.
Vegan Burger: Plant-Based Options
A vegan burger is a plant-based option for those looking for a meat-free meal. Made with ingredients like beans, grains, and vegetables, these burgers are a healthy and delicious option for anyone. Whether you're a vegan yourself or just looking to add more plant-based options to your diet, these burgers are a great choice. However, this burger is only available in other countries like the UK. The only closest to this burger in the US is the veggie sandwich but without the buns at Five Guys.
Five Guys Vegan Options: Frequently Asked Questions
What are the vegan options at Five Guys Burgers and Fries?
Five Guys' French fries, free peanuts, vegan sandwiches, mix-ins, sodas, sauces, and toppings are the only options offered at Five Guys.
Is Five Guys' veggie sandwich a vegetarian menu item?
Yes. The veggie sandwich is a vegetarian-friendly meal. The bun contains eggs and dairy and the sandwich is made with grilled onions, mushrooms, lettuce, peppers, and tomatoes.
Are Five Guys fries vegan?
Yes. Five Guys french fries and Cajun style fries that are both vegan-friendly. Both Five Guys style and cajun style fries comes from plain potatoes, fried in peanut oil, and seasoned, made perfect for a vegan lifestyle.
Do Five Guys Burger and Fries have an impossible burger?
Unfortunately, Five Guys does not offer a plant-based burger or Impossible Burger in the US. However, the "veggie sandwich" is a great vegetarian and vegan option(without the bun). In other countries like the UK, they have Beyond Meat or Impossible burger, they are not just limited to 3 vegan options but they have decent meals to choose from.
Final Thoughts: Five Guys Vegan Options
Overall, having a vegan diet at Five Guys might not be a good idea because of how limited their vegan-friendly menu options is. The items at Five Guys are mostly sandwiches, burgers, and hot dogs which are NOT good options for vegans. I would recommend Five Guys to vegetarians, but not vegans. French fries, peanuts, veggie sandwiches, mix-ins, vegan sodas, sauces, and toppings are the only options. While this is not a lot to choose from, it is still possible to get a decent meal if you are vegan. The mix-ins and sauces can make the French fries and sandwiches more interesting, and the vegan sodas can help wash it all down. Just be careful with the other toppings, as some of them may contain dairy or eggs.
If you're interested in trying other fast-food chains, we also have updated guides for other restaurants like Burger King (Lettuce Wrapped Burger), Taco Bell (Corn Tortillas), Chipotle (Breakfast bowls), Shake Shack, Wendy's, and more. These chain restaurants offer options for people with dietary restrictions. We have a full article of guides about their vegan, keto, and gluten free options and also tips on how to order them, make sure to check them out. I hope you find this article helpful. Thanks for reading!